Introduction

Taxonomic Treatment

Bowlesia incana Ruiz & Pav., Fl. Peruv. 3: 28 (1802) (Figs. 2, 3)

  Key to Bowlesia and morphologically similar genera of Apiaceae in Korea
Introduction
Bowlesia Ruiz & Pav. is a genus of flowering plant in the family Apiaceae, and about 15 species are known worldwide (Mathias and Constance, 1965). This genus can be distinguished from the related genera by its prostrate herbaceous habit, simple umbels, short carpophores, and stellate pubescence (Reiche, 1902).
Initially, Bowlesia was classified as belonging to the subfamily Hydrocotyloideae (Drude, 1898; Pimenov and Leonov, 1993), however, it has recently been placed in Azorelloideae by studies based on molecular data (Plunkett et al., 2004). Representative genera of Azoerlloideae are Azorella Lam., Asteriscium Cham. & Schltdl. and Diposis DC., however, none of the taxa in subfamily have been recorded in Korea. During extensive field surveys for floristic research in Korea in 2018, we collected an unidentifiable plant characterized by leaves similar to those of Hydrocotyle and flowers and fruits similar to those of Centella (Figs. 1, 2).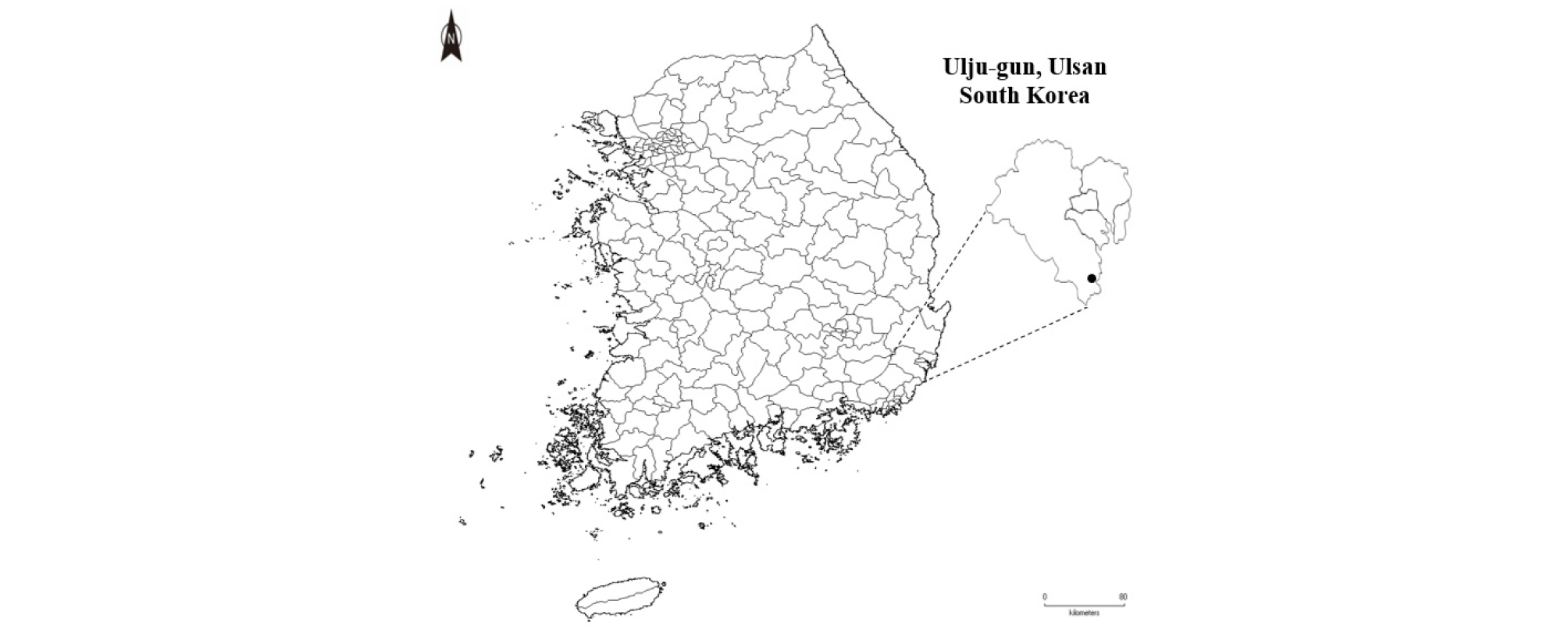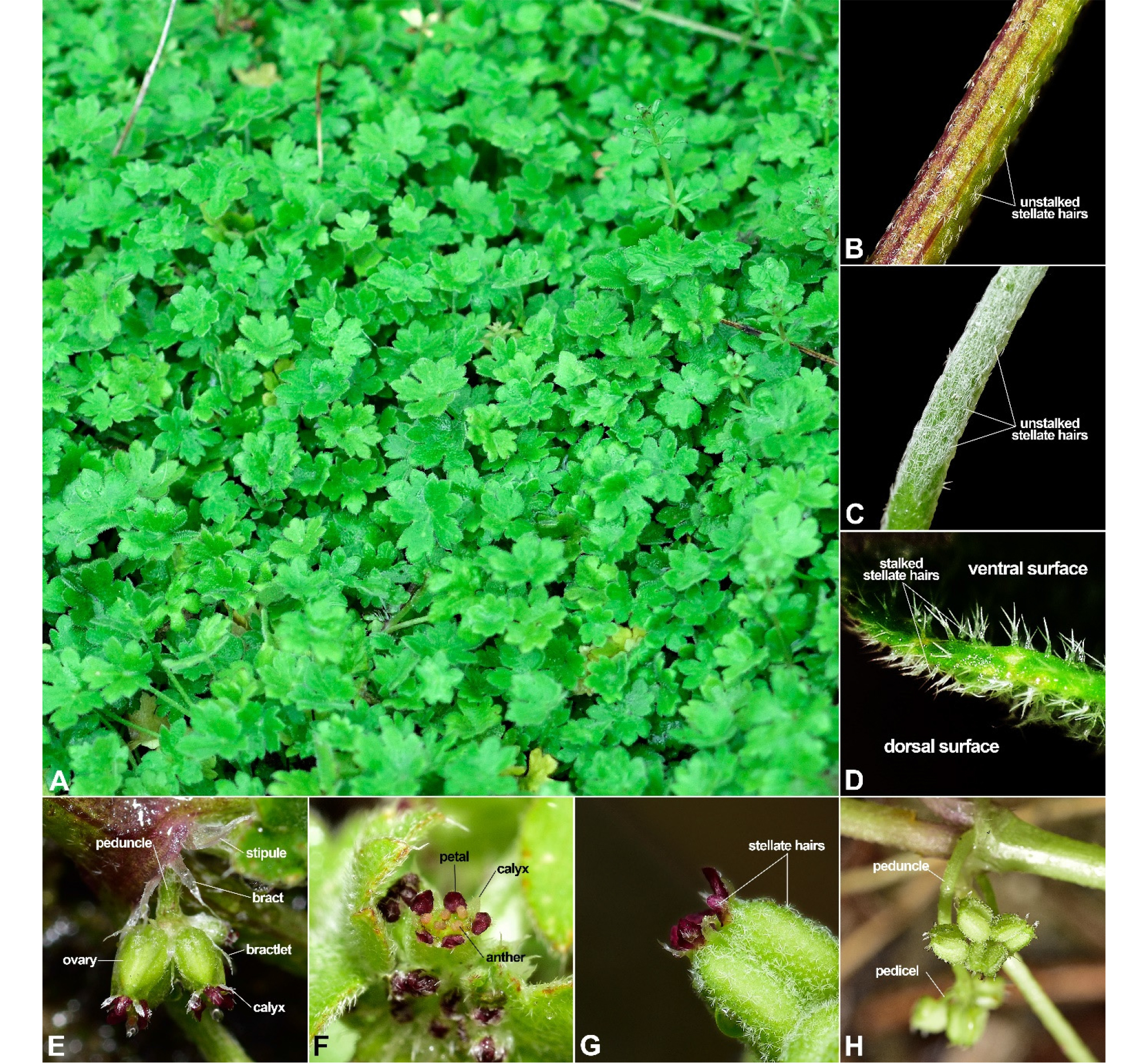 After we examined floras of various regions, herbarium specimens of Korea and adjacent countries, and the relevant literature, we concluded that the collected specimens represented an Apiaceae species hitherto unrecorded in Korea. We have formally described it below as Bowlesia incana Ruiz & Pav.
Taxonomic Treatment
BowlesiaRuiz & Pav., Fl. Peruv. Prodr. 44 (1794).
Vernacular (Korean) name: Byeong-pul-a-jae-bi-sok (병풀아재비속; new Korean name).
Bowlesia incana Ruiz & Pav., Fl. Peruv. 3: 28 (1802) (Figs. 2, 3)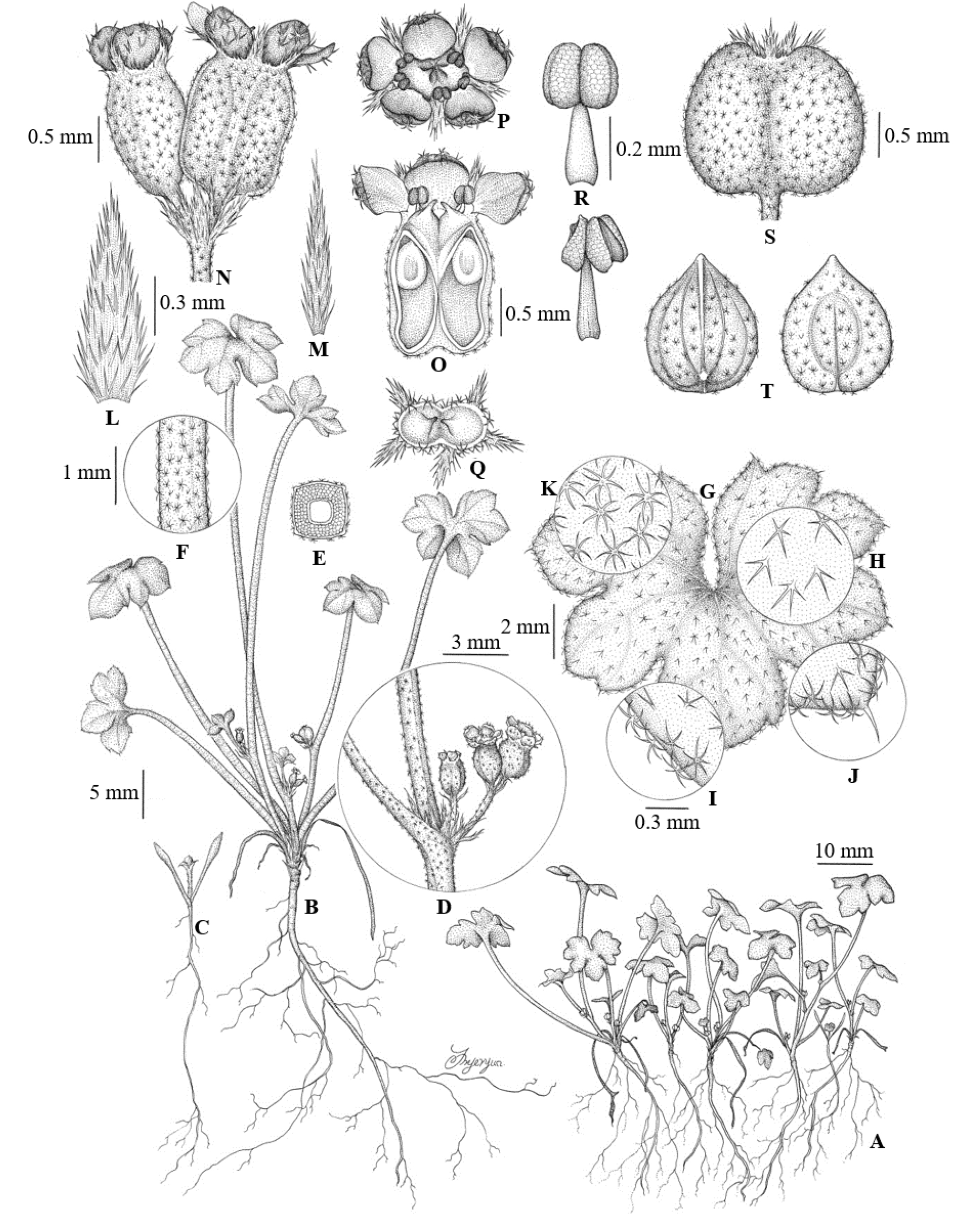 Type: (neotype, designated by Mathias and Constance, 1965): —P: 'Habitat in Peruviae collibus ad Huanuci, Rondos et Pillao tractus.' (present address: Peru: Huanuco Dist. & Rondos Dist.), s.d., Dombey s.n. (F, digital photograph)
Annual creeping, small herb, covered with stellate hairs. Stem slender, glabrate to slightly stellate pubescent; hairs 8-rayed, unstalked. Leaf opposite, with fimbriate stipule and usually long petiole; blade palmate, 0.5–3 ㎝ long, rounded- reniform; lobes 5–9, widely lanceolate to round, generally obtuse with deep sinus, stellate pubescent; stalked hairs 8-rayed on both surfaces. Inflorescence umbel, simple, axillary, few-flowered. Bract of a few scarious, white to purplish white, lacerate bractlet. Flower small; calyx teeth prominent; petal oblong to ovate, greenish white to purple; stamen inserted, anther purple. Stylopodium conical; style short; carpel densely stellate pubescent. Fruit small, broadly ellipsoid to globose ridge inconspicuous, ca. 2 ㎜ long, 1.5 ㎜ wide, covered with stellate hairs.
Phenology: Flowering Mar. to Apr.
Distribution: Korea (Ulju-gun), Japan (Honshu), South America, southern USA, Europe, western Pakistan, New Zealand.
Vernacular (Korean) name: Byeong-pul-a-jae-bi (병풀아재비; new Korean name).
Specimens examined: KOREA. Ulsan Metropolitan City, Ulju-gun, March 20, 2018, Y.Y. Kim 180320-001 (KH)
Introduction route:Bowlesia incana was found on the slopes next to the protective walls installed along the road. Thus, we assume that their seeds unintentionally transported by vehicles along with construction materials in the construction sites. Eventually they germinate and produce seeds which dispersed throughout area. Although Bowlesia incana was found in the forest areas, recently recorded other invasive alien plants, for instance, Ludwigia peploides (Kunth) P.H.Raven subsp. montevidensis (Spreng.) P.H. Raven and Geranium purpureum Vill., have been found in lakes and railroads (Kim et al., 2019a; Kim et al., 2019b). This indicated that invasive alien plants can grow in every possible environment, thus it is important to evaluate their invasiveness through regular monitoring and distribution survey. The final results should be provided as information for establishing the management of invasive alien plants.
Taxonomic note: While Bowlesia incana, native to Peru of South America, has been naturalized in countries in from tropic to temperate region including North America, Europe, Asia and New Zealand (Fig. 4). In Korea, this species is similar to Hydrocotyle sibthorpioides Lam. in terms of the appearance of young leaves and white-colored early blooms, and Centella asiatica (L.) Urb. with respect to the shape of the flower and fruit. However, B. incana can be distinguished by several features from these two species; in the former case, the white flower color changes into reddish as it grows, ridges on the fruit surface, which are not seen in H. sibthorpioides. Furthermore, B. incana has palmate leaves and hairy fruits, whereas C. asiatica has heart-shaped or reniform leaves and glabrous fruits. Above all, stellate pubescence growing all over the surface of B. incana is the most important characteristic that is not found in the two similar species (Figs. 2, 3). According to our investigation, this genus is recorded for Korean flora as the species B. incana. This is the first record of this species in the Korea area. The number of genera of Apiaceae in the Flora of Korea (Korea National Arboretum, 2017) has increased to 41 with the addition of Bowlesia. Meanwhile, Drusa DC. and Homalocarpus Hook. & Arn. are known to be related with Bowlesia (Plunkett et al., 2018). However, these genera were not found in Korea, thus we described Bowlesia incana comparing apparently similar genera, Hydrocotyle and Centella in Apiaceae. The identification key of Bowlesia and related genera of the family Apiaceae has been recorded and is given as follows.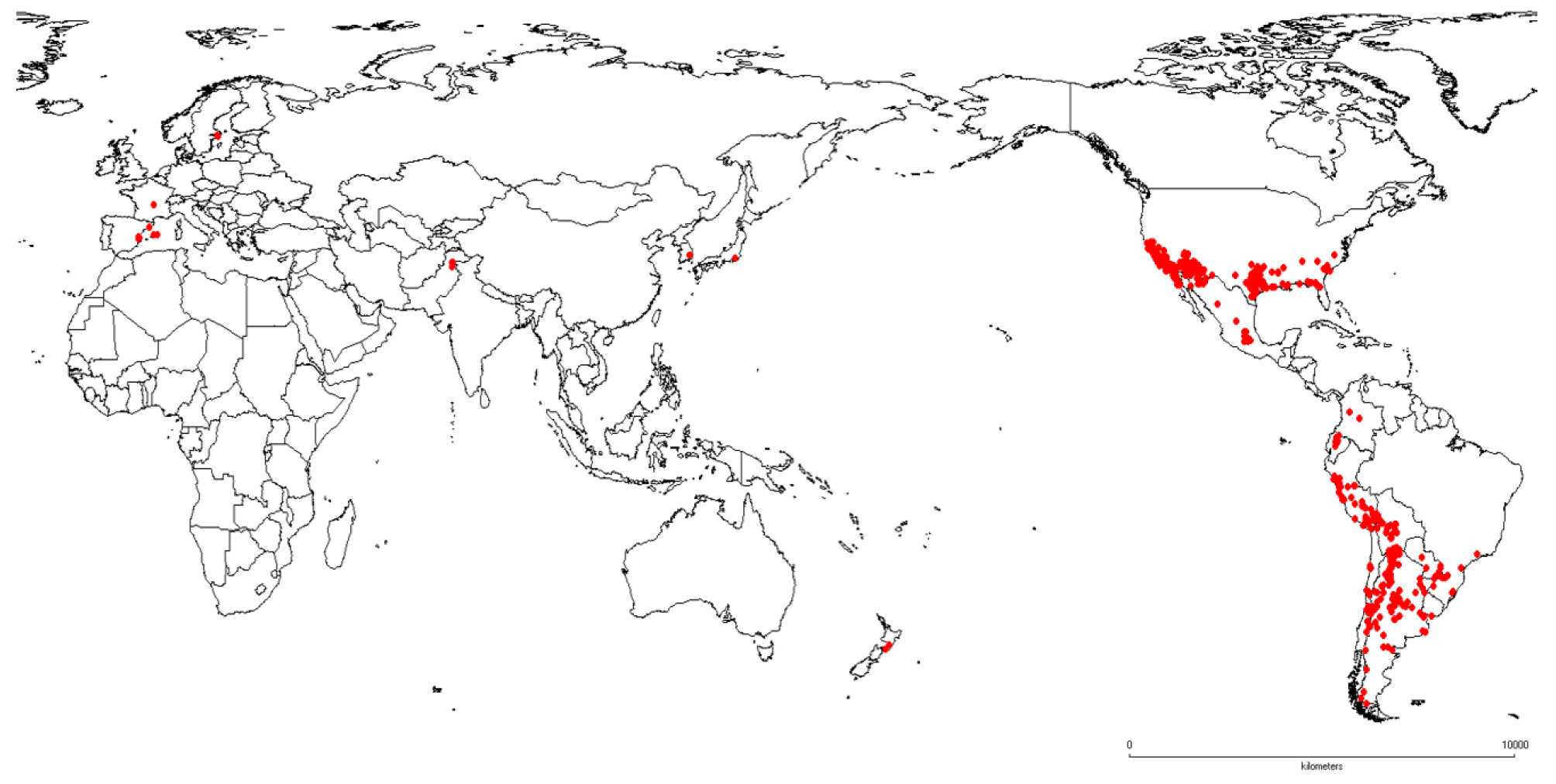 Key to Bowlesia and morphologically similar genera of Apiaceae in Korea
1. Fruit without ridges..........................................................................................................Hydrocotyle Tourn. ex L. 피막이속
1. Fruit with reticulate ridges.
2. Herbs perennial, glabrous. Adventitious root development at node. Leaf cordate or reniform. Calyx and petals glabrous. Fruits reticulate, ridged..................................................................................................................Centella L. 병풀속
2. Herbs annual, with stellate trichomes. Adventitious roots absent. Leaf palmate. Calyx and petals covered with stellate hairs on dorsal surface. Fruits not ridged...........................................................Bowlesia Ruiz & Pav. 병풀아재비속
* Although Hydrocotyle is recently placed in Araliaceae by some authors based on molecular phylogenetic studies (Downie et al., 2000; Plunkett et al., 2004; Erbar et al., 2004; Angiosperm Phylogeny Group, 2009), we described it as belonging to Apiaceae in accordance with Flora of Korea (Korea National Arboretum, 2017; Park et al., 2017)